The heavy jungle surrounding the city of Tay Ninh, has always been well known to the Viet Cong.

For years Charlie has mapped clearly in his mind every foot of his land and has found no great

difficulty in moving freely in and out of the province.

Times are changing under the watchful eye of  company C,   3rd Battalion, 21st Infantry, 196th

Charlie's hide-away is being remodeled.

Bulldozers from the brigade's 175th Engineer Company are tearing a path twice as wide as an

air strip through the area, clear to the Saigon River.

By rearranging and clearing the area, the brigade will make it vastly more difficult for VC to move

north or south unobserved, and Charlie knows what happens to him when he is seen.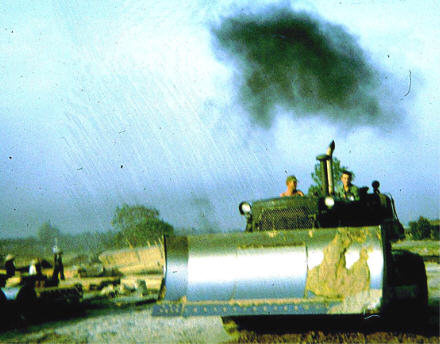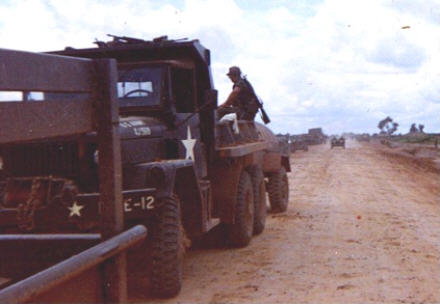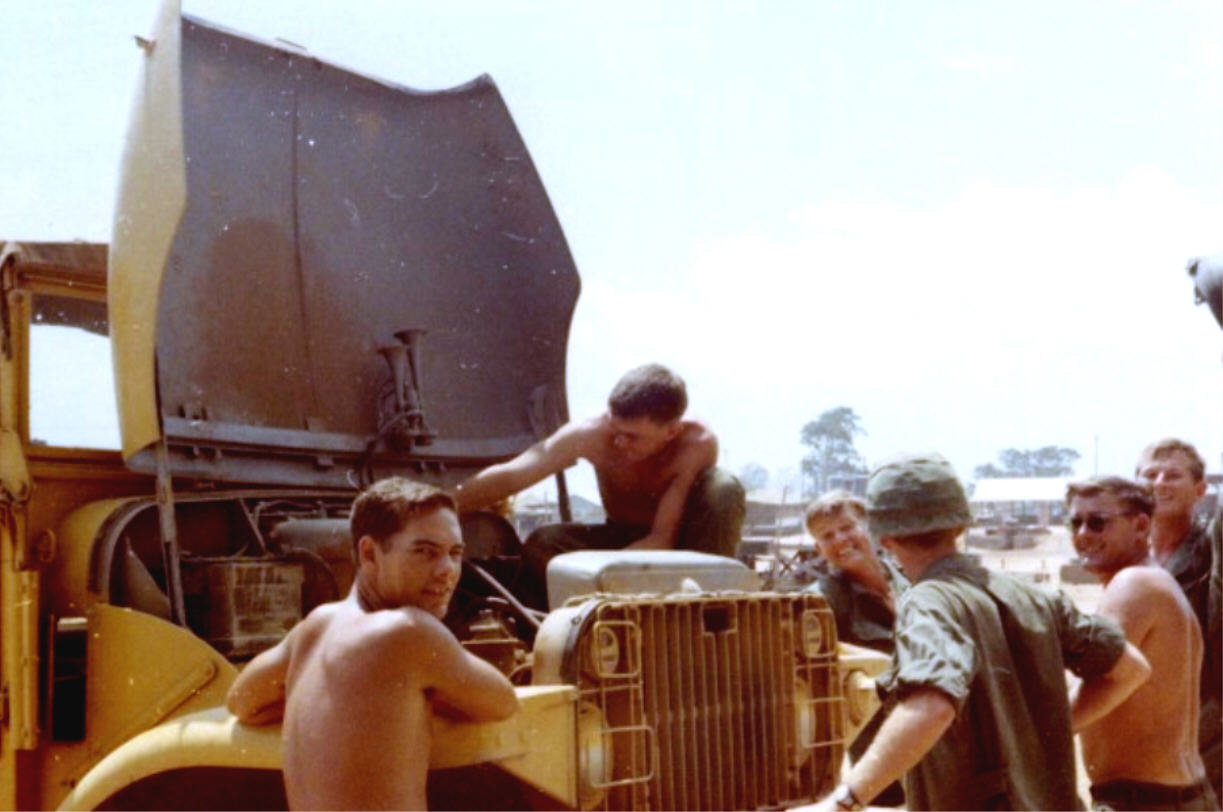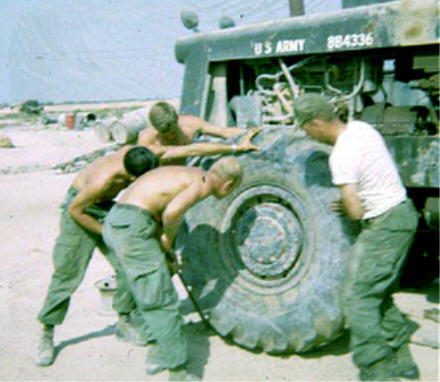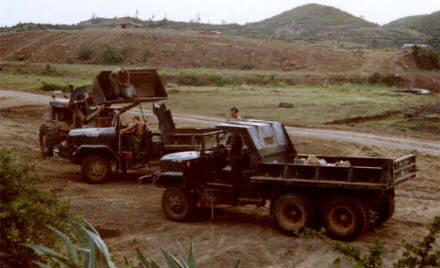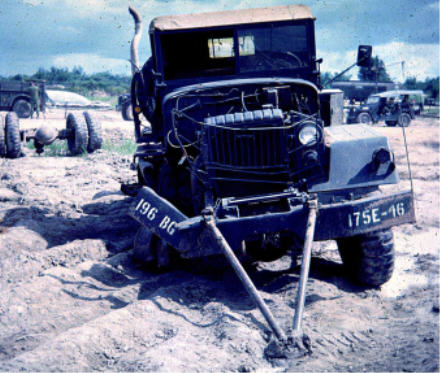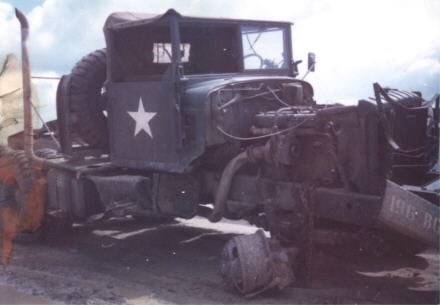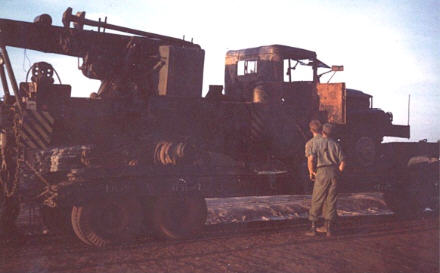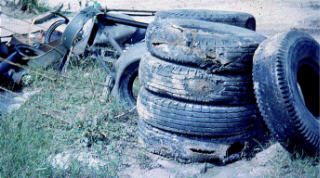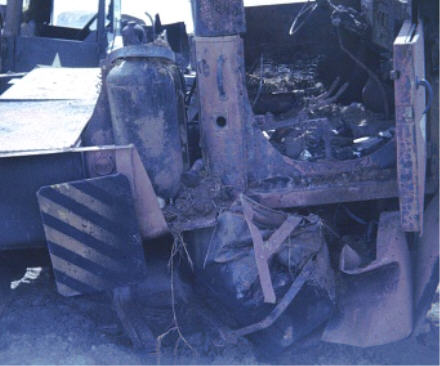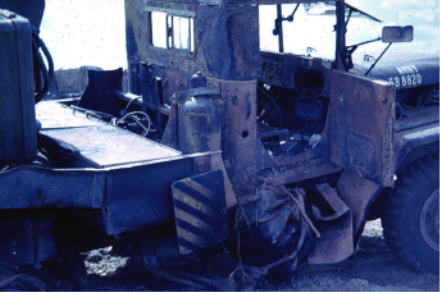 Claton, Blake, Shaw, Hoeffer, Cushman

Motor Pool  during the monsoon season

The Viet Cong move in at night and set up mines at almost any point in the roads. Mines and booby traps were a daily hazard to the engineers.

Most roads had to be cleared every morning by the engineers.

Chu Lai, at the grease pit       Osmun,  Snyder

The jeep that hit a mine, being loaded on a truck

            Low bed tractor driven by Charlie Price hit a mine behind

Nui Ba Den Mt., Rex Willis ,was sitting on the dozer on the back  when hit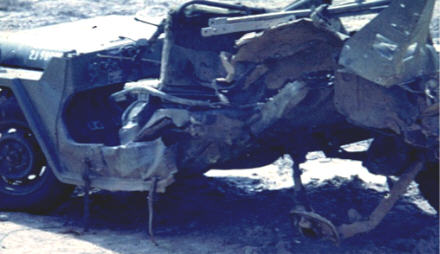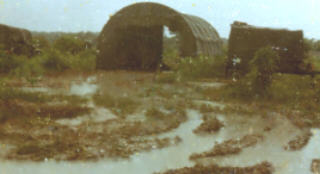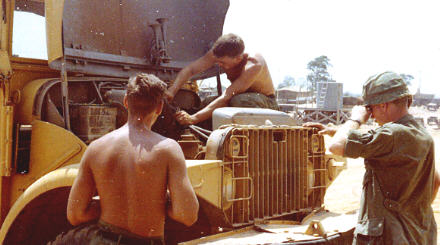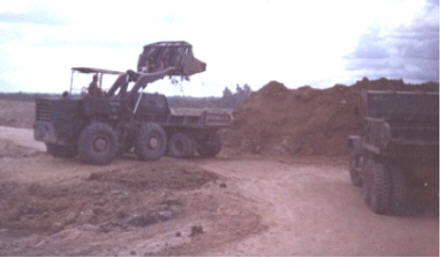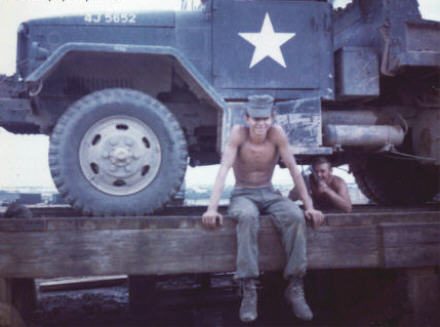 The next three pictures are identified by David Treese, 196th Light Infantry Brigade 8Th Support .On November 10th 1966 I was riding as shotgun and Tom Pollard  was driving when our wrecker hit a land mine on a road outside of Tay Ninh.  We both were send to the 45th Hospital. Tom, remained at Tay Ninh and I was send back to the states to Fort Sam , Brooke Army Hospital burn center, with 2nd and 3rd degree burns.  With a lot of help from everyone I survived and realized that every day has been a blessing .

                                                                                                          David Treese,

                                                                                                  Unit B/8th Support Batln

                                                                                                   196th Brigade